Image credit: http://bit.ly/2e3i09a
Pandan leaves, sometimes known as screw pine is a tall grass that grows in Asia and especially in Malaysia and Thailand but also in Vietnam, Burma and Sri Lanka.
Pandan leaves are often used as a deodorizer on cakes. Cakes which are made by adding fragrant pandan juice and will make it more tasty and delicious when eaten.
Pandan leaves contain essential nutrients, including: saponin, polyphenol, tannin, pigment, alkaloida. In addition to scent the food or beverage, pandan also has other benefits that are not less remarkable.
Benefits of Pandan Leaves:
1. Lowering high blood pressure
2. Helps with sensitive skin
3. Eliminate Dandruff and Hair Loss
4. Helps Weak Nerves
5. Rheumatism
6. Increases Appetite
7. Mild Laxative (treats constipation) for Children
8. Helps to Detox Liver
9. Pain Relief (headache, ear pain, chest pain, arthritis)
10. Helps with blood sugar management (diabetes)
Rhymba Hills products which contains Pandan Leaves are (please click on product below to try):
– Rhymba Hills Reelax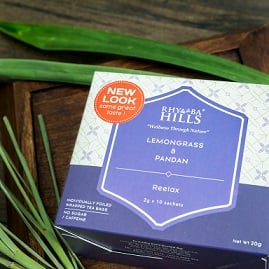 – Rhymba Hills Lemongrass Blend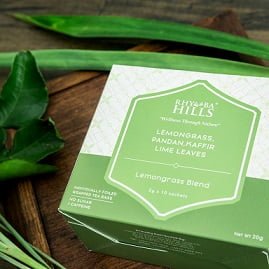 References:
http://drhealthbenefits.com/herbal/leaves/health-benefits-of-pandan-leaves
http://www.articlesofhealthcare.com/10631/7-benefits-of-pandan-leaves-can-neutralize-toxins.html
https://www.ncbi.nlm.nih.gov/pmc/articles/PMC4329610/