[vc_row][vc_column][vc_column_text]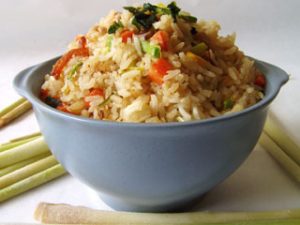 Besides using Lemon Grass as a refreshing beverage, you can also add it to your meal. A simple idea is to add Lemon Grass pieces to your fried rice. Here's a simple recipe:
Ingredients
• Vegetable oil
• 1 medium sized onion, diced
• 1/2 tbs. minced garlic
• 1/2 tbs. fresh minced ginger
• 3 stalks lemongrass, minced, white only
• 4 cups cooked rice
• Juice of one lemon
Directions
In a wok, heat a little bit of oil. Sauté the garlic, onion, lemongrass and ginger till fragrant.
Add the rice and sauté all for about 5 minutes. Add the lemon juice and salt as desired. Serve with chicken or seafood.
If you have any ideas to share, we will be more than glad to share with the rest of Lemon Grass enthusiasts.
Have a good week ahead.
Try some tea that contains lemongrass which helps to boost our immune system here![/vc_column_text][/vc_column][/vc_row]