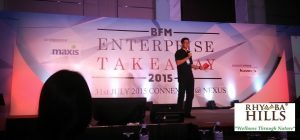 BFM recently has its inaugural conference which focuses on the Food and Beverage (F&B) Industry. I thought it was great to be able to learn and listen to the veterans on what they had learnt along their journey.
I even met a few friends, whom I considered to be very successful in the F&B scene. And yet, they still chose to spend their day, learning from their peers and networking.
With good friends
As for us, I can see that the trend in the F&B industry, slowly but surely moving towards a healthier meals option. And I am very happy to see this trend.  This is also where I think Rhymba Hills has a long way to go, but surely lots of potential when it comes to healthier, tastier meals/beverage options. After all, not many people enjoy drinking plain water. Thus, why not infuse it with something tastier and healthy, like Lemon Grass?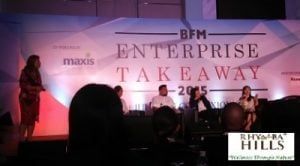 Panel discussion – Owners of food truck, freshly pressed juice and restaurant owner, and the moderator, Fay Khoo (seated second from right)
All in all, I had a wonderful time learning, networking and most of all enjoyed myself!