For the past 6 years, Tesco together with University Malaya Medical Centre has been organising the 5km walk to raise awareness and funds for children with Leukemia.
Yours truly, advocate of healthy living and Corporate Social Responsibility, went with a few friends.
Would say that the UM campus is beautiful. Coupled that it is a leisure walk, not competition, made the whole event very enjoyable.
Walking besides one of the UM halls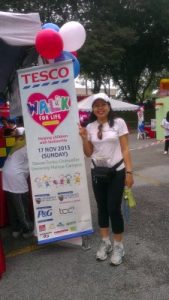 Yours Truly before the start of the walk