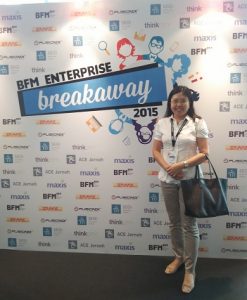 We have been attending BFM Breakaway for the past 3 years. BFM is the only business radio station in Malaysia. I love how they provide information especially during the bad traffic in Klang Valley.
BFM organises BFM Breakaway, where they get entrepreneurs to share their learnings, and this event is also a great opportunity to network.
What I like about this year's event is 2 sharings. One by Sirivat Voravetvuthikun, the former Thai multi-millionaire property tycoon, whose company went under during the 1997 financial crisis. As a result, he was declared a bankrupt, and resorted to selling sandwiches. He shared that when he was at his peak in his property business, money was never enough, and he was motivated by greed. All he could think about was how to target the wealthy folks to buy his properties. The bankruptcy humbled him. Now, he is selling healthy snacks, and his focus is to help the farmers to earn better. And as a result, he is much happier now, as his focus is on farmers and not himself.
The other entrepreneur who caught my attention was a Malaysian, Ivan Teh. He is the Founder of Fusionex, a public listed company on the London Stock Exchange. He shared that CSR (Corporate Social Responsibility) is very important to him. He also shared that we should always remember where we come from and must remember our roots.
When Ivan mentioned that, it truly echoed a sentiment in me. I have always believed in CSR, I have always believed in passing it forward. To me, it is a blessing to be able to give, as we just never know what struggles others are going through, and the simple gesture may have just lit up the person's life. To me, giving is not about religion or karma. It is about doing the right thing, without expecting anything in return, overlooking race, religion, age or even status.
This is why I envision Ladang Sari International Sdn Bhd to be able to give more in the future. I am happy that we are able to help the community in Sentul with their education, and I would like to see the outreach to grow stronger and further.
Let's all Pay It Forward, and continue to touch lives, in whatever way we can.