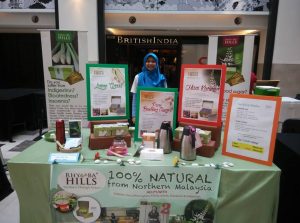 After a hiatus for a few months, we were finally back at Rasa-Rasa Bazaar at Publika.
We enjoy doing such events as it means that we are able to have face to face interaction with customers, and at the same time educate and share awareness about the goodness of our tea.
We have recently launched our Bentong Ginger Tea, and the tea were selling like hot cakes! Particularly for those regular Ginger consumers, they love our Bentong Ginger Tea as it was spicier and more aromatic compared to the ordinary ginger!
Ginger is excellent for those who feel cold, wards off cold and flu, excellent for pain and indigestion.
Stay tuned for our next roadshow!