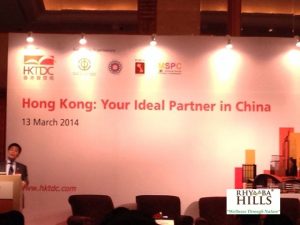 A few of my business owner friends shared with me that HKTDC is one of the more active Trade Development Council in town, compared to other countries.
HKTDC is equivalent to our Malaysian MATRADE. Yesterday, they had seminar at one of the 5 star hotels in town, to showcase how Hong Kong is an ideal country to set up office, as it is the gateway to the world, especially China.
Agenda and plenty of writing material..
I managed to speak to Margaret Foong, the Deputy Director of HKTDC, about the presence of Malaysian brands in Hong Kong and China. Her answer : There  is always room for unique products.
After the seminar ended, it was followed by a sit-down luncheon, which was a pleasant surprise to me. Most luncheons organised by Trade Councils are standing, uncomfortable, bite food lunches.
Hong Kong is definitely an exciting market to enter, especially, for Malaysian Tea brands like Rhymba Hills Lemon Grass and Misai Kucing Tea.