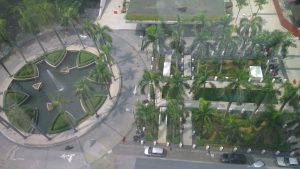 We were very priviledged to be invited to be one of the vendors during a health workshop, in a global financial institution.
I love how Multi National Companies (MNCs) invest time and money to ensure their employees have good knowledge of health, both physical, mental and spiritual.
At the booth, early in the morning, before other vendors came in
Part of the office crowd
I love how Rhymba Hills spread the message that natural, healthy beverage can be tasty and easy to drink. Many were surprised to learn about the health benefits of Lemon Grass Tea and Misai Kucing Tea, especially insomina. Yes, we managed to raise awareness!