Recently, a group of Taiwanese Entrepeneurs, made a trip to Malaysia. They are looking to expand to Malaysia, thus considering the countries in South East Asia.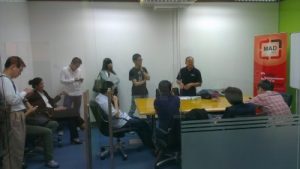 Lim Soon Heng (Producer of BFM), briefing the panel before the session starts
While they were here, MAD Incubator, invited them to share their experiences of starting a start-up. The points that I managed to note:
– Have a team, who believe in your vision, to make a difference in the community
– If possible, have a co-founder. Don't rush into get a co-founder for the sake of getting one. A right fit is very crucial.
– When the company has been set up and running for a while, passion will turn into responsibility. Responsibility for the company, employees and your country.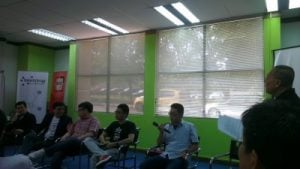 Sharing of the Taiwanese Entreprenuers. On the far right, Lim Soon Heng, moderating the session
What the entreprenuers shared, echoed with my vision for Rhymba Hills. There are a number of Malaysian tea players in the market. But none of them are heard of except for B** and L*****.  Both B and L and well known due to the fact they have been around for a LONG time, that's all.
I believe that Rhymba Hills has a place in the market. Just need to keep on sharing our story – 100% natural, fairtrade, nutritious soil, unbleached bags.