I have known Andrew Wong, the CEO of MAD Incubator for more than 2 years now. He is very passionate about entrepreneurship, and thus, I support him for events, whenever possible.
Whenever there are events that I see related to my Lemon Grass and Misai Kucing Tea business, I will attend and network. After all, there is a quote 'Showing up  is 50% part of success'
Last week, marked the third Startup Incubator office at Cyberjaya. I attended the event, saw some familiar faces and learnt what was new in the startup scene.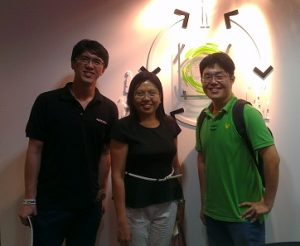 Picture with some entrepreneurs friends, Yu Han (left) and Mak (right)
Looking forward to more MAD Incubator events!