Every year, Malaysia will host MIHAS. It is an excellent platform for all Halal companies all over the world, to source for halal products. This year, the 11th year,  it showcased more than 600 exhibitors from more than 20 countries.
And this year, we took part in this event.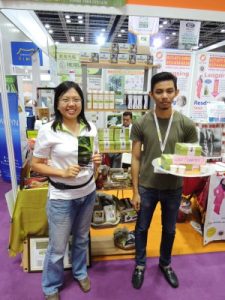 My helper, Amirul
A fellow visitor, tasting our tea
A loyal customer, Melati, who came bright and early on Friday, to purchase her Misai Kucing Tea
It was a good exhibition. We received queries from UK, Singapore, Japan and Korea. What more, our Misai Kucing Tea helps with gout, diabetes, water retention, thus a good detox and diuretic.
Looking forward to the next MIHAS!