Each Rhymba Hills® Ceylon Cinnamon Blend sachet is individually wrapped in aluminium foil to contain freshness
This herbal infusion tea is perfect for those who want to:
– have weight loss help
Both Ceylon Cinnamon and Roselle may assist in this matter, as they gently assist to flush our toxin from the system through urine and sweat
– manage their blood sugar level better
The active ingredients in Ceylon Cinnamon may help to manage blood sugar level better
– rich in vitamin C (packed with antioxidants) and minerals
Roselle is very rich in vitamin C and naturally low in calories. Roselle also provides a good supply of minerals including calcium, iron, magnesium, phosphorus, potassium, sodium, and zinc. It also contains vitamin B complex like niacin and folic acid.
– helps with oral health (gums)
Kaffir Lime Leaves has been known to help with oral health, as it has anti-bacterial ingredients
Note: When consuming Cinnamon, please take note that there are 2 kinds of Cinnamon. Ceylon Cinnamon and Cassia Cinnamon. Cassia Cinnamon, the cheaper version of Cinnamon, when taken in excess, causes liver damage as it has high levels of coumarin. What is deemed as excess? It is when you are consuming 1-2 teaspoons of Cassia Cinnamon. That is why, we ONLY use Ceylon Cinnamon, the better quality Cinnamon. Ceylon Cinnamon is not only safer, but it has better health benefits and more aromatic, despite it being around 5 times more pricey than Cassia Cinnamon. We only want to give our customers the best ingredients possible, which is why we decided to use only Ceylon Cinnamon, for better health benefits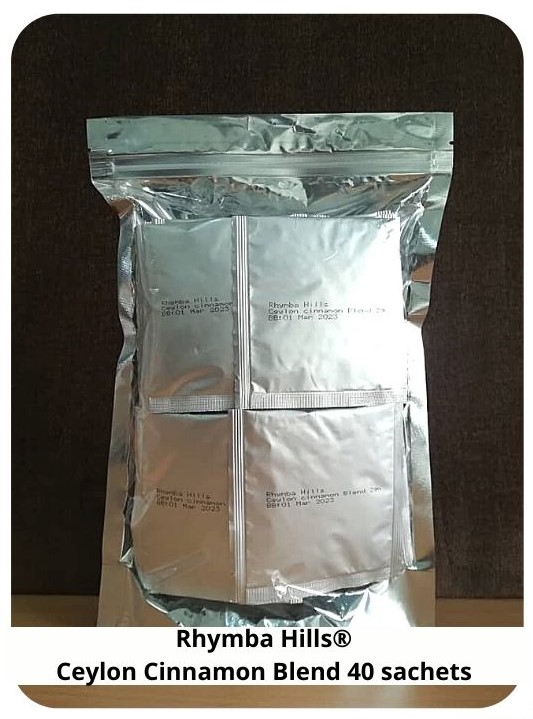 Our product is JAKIM Halal Certified (the highest Halal Certification quality worldwide) with Certification number MS1500:2009 1066-11/2014
Customers' Testimonies:
"I enjoy drinking the tea (Ceylon Cinnamon Blend) because it is without caffeine. It makes feel lighter. Even the price is a bit pricey, but I enjoy it and feel worth it. My sister helps me to buy at nearest the supermarket."
-Ms. Thurgasini,Cyberjaya
"I love the taste of Rhymba Hills Ceylon Cinnamon Blend. It helps me to relax and detox"
-Grace