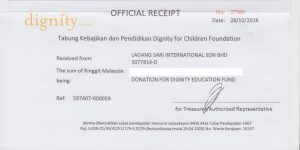 Rhymba Hills Tea Donation
From day one, Rhymba Hills® has been committed to donate part of our sales proceeds. We truly believe that it is compulsory to give back to the community in order to appreciate the blessings we have received. In doing so, we also hope to inspire other businesses to not only be profitable but to practice social conscience in giving back.
On the 28th of October 2016, we donated to the Welfare and Education Fund for Dignity for Children Foundation. We chose Dignity for Children Foundation because there is no stepping stone like education. We trust that the children of today will be the future of the next generation and through this contribution, we hope we will be able to lend a hand in shaping better leaders for a better tomorrow.
It is also our vision that the children at the foundation will find in themselves the ability to achieve their goals and dreams through this donation. We are grateful that we have a platform of our natural tea company, to raise awareness on healthier lifestyle, and at the same time, we are also able to help children and their education.