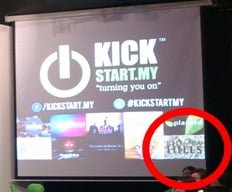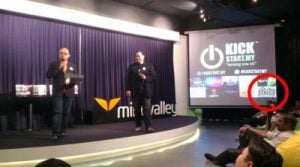 Rhymba Hills logo at right, bottom corner
Whenever there is an event that brings value to the community, especially about health, entrepreneurship, etc, Abundance Living Enterprise would want to be there. At the top, the organisers of event, Kickstart, Maverick and his partner, sharing the vision of Kickstart.
Kickstart organises talk regularly, where they invite speakers to share about their entrepreneurial experience. And of course, the event is Free of Charge. Circled in red, is the Rhymba Hills logo.
In my excitement to settle down on the bean bags, I forgot to take photo of the Lemon Grass Tea dispenser that I brought, as the drink sponsor for the event 🙁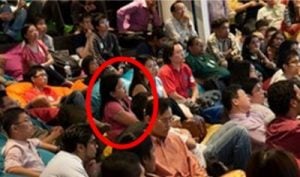 And that's me, seated among the audience, on bean bags, listening and absorbing what the speakers had to say.
Maverick gave 60seconds to 3 persons from the audience to pitch/share about their business. Since there are 4 of us who volunteered (including myself), Maverick gave time to us all 🙂