The Canton Fair is China's longest in history, most comprehensive, most complete in exhibition variety and has the broadest distribution of overseas buyers and greatest business turnovers. First started in 1957, the Canton Fair hosted its 119th exhibition this year. Held over two sessions every year (once in spring and the other in autumn), the Canton Fair is truly one of its kind. Rhymba Hills® was fortunate enough to attend and exhibit during this spring session.
Held at the China Import and Export Fair Pazhou Complex, Guangzhou and organized by the China Foreign Trade Centre (CFTC), over 185,000 visitors attended and 24,000 exhibitors participated. The Canton Fair was held from the 15th of April 2016 to the 5th of May 2016 (Spring Session) and was divided into three phases according to categories.
The phases are:
Phase 1: Electronics, household electrical appliances, machinery, lighting equipment, hardware and tools, vehicles and spare parts, building materials, chemical products.
Phase 2: Consumer products, decorations goods, gifts.
Phase 3: Textiles & garments, shoes, office supplies, cases & bags, recreation products, medicines, medical devices and health products.
We participated in Phase 3, where the Food category was held. We were housed under the Malaysian Pavilion. It was interesting to talk to buyers from all over the world, such as people from South America, Europe, Africa, North America about our wonderful Malaysian herbal infusions like the Misai Kucing, Lemongrass, Bentong Ginger, Pandan teas. We met so many vendors from China as well and had the opportunity to converse and exchange trade information with them.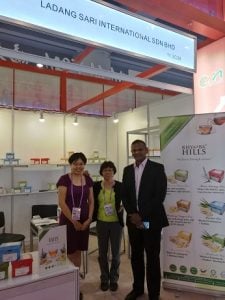 The Pazhou Complex (where the exhibition was held) is huge. It holds sixteen halls, and each hall has four floors. Walking from one end of a hall, to the other end of another hall took 30 minutes! There were even electric vehicles to ferry buyers across the bridge because it was so large. This was definitely a worthy trip to make as the scale of the event parallels to its quality.
All in all, it was a great experience to visit and take part in the 119th Canton Fair. Thank you MATRADE for the opportunity!
References:
http://www.cantonfair.org.cn/html/cantonfair/en/about/2012-09/139.shtml