This year, we took part in Malaysia International Halal Showcase (MIHAS) 2016. We decided to have a booth at the event to create more visibility for Rhymba Hills®. MIHAS is an annual trade exhibition organized by the Malaysia External Trade Development Corporation (MATRADE) and hosted by the Ministry of International Trade and Industry (MITI). This year, the four day event was held in Kuala Lumpur Convention Centre (KLCC) from 30th of March to the 2nd of April 2016.
MIHAS is growing to be one of the most anticipated trade exhibition in Malaysia as it allows markets to be exposed to various halal products and brands from all over the world. It is a very fitting event for Malaysia as we are seen as a peaceful Islamic country. It is internationally recognized with over 22,000 trade visitors and this year especially, we saw more Halal products being promoted compared to previous years.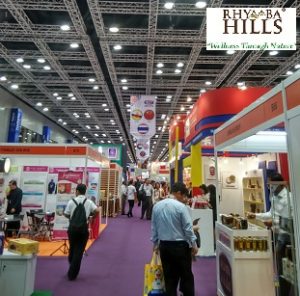 At the trade floor, before the general public hit the floor
With Y.B. Dato' Noraini Ahmad, Chairman of MATRADE who came by our booth
Even countries such as the United States, France, Japan, China, Russia, South Korea and South Africa were involved in the exhibition this time around. Participation from these largely non-Muslim countries showed there is definitely an imminent interest growing towards the Halal markets. Of course, this is also possible as MIHAS offered not only a fair trade but International Sourcing Programme (INSP). Just a bit of an insight, the INSP allows individual business meetings with Malaysian businesses and are arranged in conjunction to buying missions.
With the strong support from MATRADE, Malaysian companies were encouraged to leverage on the programme as it allowed them to expand their businesses internationally. MATRADE believed that MIHAS is one of the best opportunity for businesses to arrange for one-on-one meetings and participation was free!
We spoke to international buyers from Taiwan, Middle East, United Kingdom and Australia who expressed interests in our Halal natural tea (especially the Misai Kucing Tea). We were very happy to have met potential future partners and are very excited to bring Rhymba Hills® abroad!
References:
https://www.matrade.gov.my/en/about-matrade/media/news-clippings/146-press-releases/press-releases-2016/3399-mihas-2016-malaysian-companies-set-to-penetrate-39-world-markets-at-sourcing-programme
https://www.thestar.com.my/metro/smebiz/news/2016/04/18/halal-gets-big/
http://www.miti.gov.my/index.php/pages/view/3185