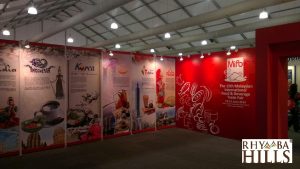 MiFB is currently happening now, at Kuala Lumpur Convention Centre.  We went to have a tour yesterday, to see what is new in the market.
We are glad to know that Malaysia has ramped up their innovation of food technology. Previously, we do not see much snacks made of fruits (like how Thailand has chips from all the local fruits). This time round, we are so glad to see that available in the market.
Very few exhibitors took part in this year's event. The countries are mainly from Asia. Nevertheless, we bought some tea to sample.
Surprisingly, there were only a handful of tea suppliers from Malaysia…No sight of Lemongrass Tea, Misai Kucing tea nor other local herbs…