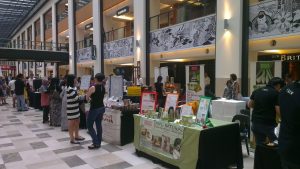 Every first Tuesday of the month, Rasa-Rasa Bazaar takes place in Solaris Dutamas (Level G2), Desa Sri Hartamas.
The event is to showcase both local flavour and imported flavours, and the exhibitors skew towards artisan products.
Starting 2015, we will take part in this monthly event, to create more awareness and educate the members of the public about the goodness of Lemon Grass Tea and Misai Kucing Tea.
Many are pleasantly surprised at the smooth taste of Lemon Grass Tea (since many are used to eating and drinking food with strong taste)
We are truly excited to be part of the community who is reaching out to people who have discerning taste! 🙂
Our Booth