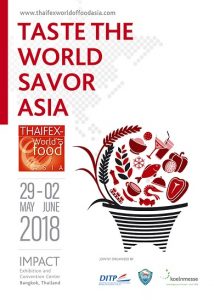 This year, we decided to make a trip to Thaifex again.
We have always love visiting Thaifex, as the Food & Beverage industry in Thailand, is considered the most vibrant in South East Asia.
Koelnmesse Pte Ltd, the Department of International Trade Promotion (DITP), and the Thai Chamber of Commerce (TCC) are the organiser of the 15th edition of Thaifex, which runs from 29 May to 02 June at IMPACT exhibition hall, Bangkok.
This year, the exhibition is over five days, compared to only three days in 2017. It played host to more than 60,000 trade visitors from all over the world.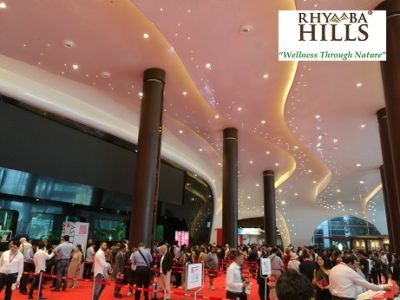 Chantira Jimreivat Vivatrat, Director-General, Department of International Trade Promotion, mentioned how THAIFEX-World of Food Asia plays a big part in the food global market.  "Thailand is the largest food exporter in Southeast Asia, with the country's food exports forecast to reach US$27.4b this year, according to Deputy Prime Minister Somkid Jatusripitak.
2018 Thaifex edition saw it played host to more than 2,500 exhibitors from 40 countries and regions, across all 11 mega halls – an increase from 9 halls previously – at the IMPACT Exhibition and Convention Center. There were many Food & Beverage categories such as Fine Food, Meat, Food Service, Food Technology, Coffee & Tea, Drinks, Sweets & Confectionery, Frozen Food, Seafood, Rice, and Fruits & Vegetables.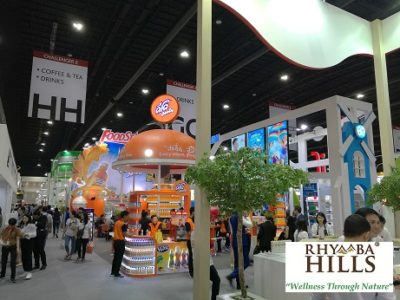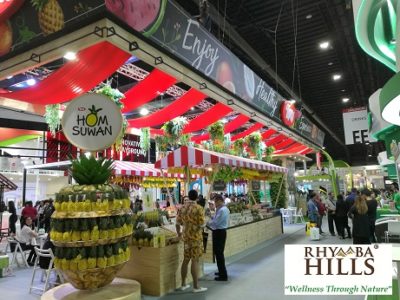 This year saw a new section, 'THAIFEXtaste Innovation Show'. This is where the insights, opportunities and challenges in the F&B industry are looked at.  Also, it showcased the consumer trends in technology, packing and flavours.
There was also a Barista challenge, where some of the world's top baristas and brewers have a showcase. We look forward to the day where there will be tea showcase, to share about the difference in tea, tea brewing techniques and other tea education.
What was interesting was that we were able to see the trends in the tea/herbal infusion category, and to speak to owners of the respective companies. This was good opportunity for networking and sharing of knowledge in the industry.
We are looking forward to 2019 to new Rhymba Hills products and ideas in the exciting F&B landscape!
Reference:
www.thaifexworldoffoodasia.com