We visited a farm in Pahang, which practises natural farming method. How is organic farm different from natural farming? Basically, organic farming has more rules and regulations, compared to natural farming. One thing similar is, both do not use chemicals and pesticides.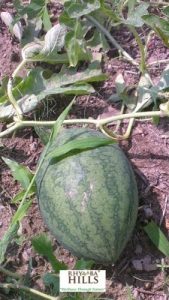 Unripe watermelon
Organic chicken
The farm owner, breeds chicken for the eggs, to sustain income, as fruit trees take some time to bear fruits.  I must say that this is the first time I am near a chicken coup, which does not smell!  This is due to using only natural farming methods, which actually do not produce odour.
All in all, it was a good trip. It was great to see the farmer so passionate about farming, and explained that farming has to be done with love. If not, the fruits and trees will not bear fruits.
What a pity this farm does not grow lemon grass tea and misai kucing tea, as the soil is not suitable for these.