We belong to a group of entrepreneurs who are in the Food & Beverage industry. This group, FnBulous, has been in existence for more than a year and meet monthly for networking and exchange of ideas.
The idea started when the founder, Phellip Ho, realised that all the F&B players were scattered, and he wanted to create a platform to bring everyone together.
At each gathering, there will be 2 members who will share about their industry, and how they can add value to one another. For this gathering, yours truly had an opportunity to share, about tea, the misconceptions, about herbal infusion (lemongrass, bentong ginger, pandan, etc)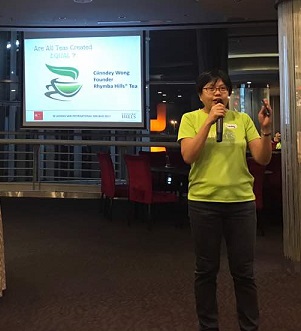 For the past 1 year, we have been meeting at various places. Thus, for the recent gathering, we decided to hold a vegan gathering, since there a vegetarian members among us.
Also, we took the opportunity to educate and share why some choose to become a vegetarian and to share vegan food can be tasty too.
All in all, we had a great time, and we are glad that some members thank us for clarifying certain myths about tea and herbal infusions. Most important too, great food  and great company!