In the past, we have only participated in large scale exhibitions, which targeted distributors or importers.
However, since we have recently entered retail (Village Grocer, Jaya Grocer, B.I.G. supermarkets, etc), we decided to support our retailers by helping to increase consumer awareness.
Over the weekend, we took part in 'I Love Coffee & Tea 2017' which was held in MidValley Exhibition Centre.
MidValley Exhibition Centre has always have a good visitors crowd, and we thought it would be a good platform to share and meet with customers who have been enjoying our tea, but hadn't been able to meet us.
Also, we wanted to reach out to customers who have been looking for herbal infusion beverage (tea without sugar, caffeine) and for health reasons.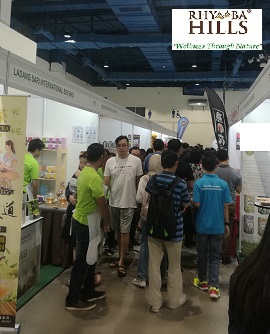 We remember there was a customer, who didn't know what to expect of our tea. When she drank our Reelax (Lemongrass + Pandan), she was so pleasantly surprised by the taste, and she fell in love with it! (such customers make our day! Thank you!)
All in all, we were quite happy to meet many new customers, who love our aromatic and tasty herbal infusion from Malaysia.